Alabama Chapter ATOS Store
There are two ways to order our CDs:
1) By regular postal service mail:
Write us a note with the quantity and title of each of the CDs you'd like to buy, along with your name and shipping address. Enclose a check for the total of all your CDs, plus $3.00 S&H per order, and mail to:
Alabama Chapter ATOS - CDs
1817 Third Avenue North
Birmingham, AL 35203
2) By using PayPal:
Clicking on the PayPal link takes you to a secure site (a FormNut hosted page) which then allows you to place items in a PayPal cart and checkout via PayPal. (Note: The pictures of the items and the playlists are hosted on this site, a nonsecure site.)
Note: You may also use PayPal to renew your Chapter Membership or to make a Donation to the chapter.
.
2018, a NEW 2-Disc CD, $25.00
The Alabama Wurlitzer At Its Best featuring Tom Hazleton, recorded 1986
In 1986, with the fate of the Alabama Theatre and its Wurlitzer uncertain, Alabama ATOS commissioned Tom Hazleton to make recordings to document and preserve the "Alabama Theatre Sound". At 21 ranks, only the English Post Horn had been added to the original Publix #1 specification.
The original release was available only on a vinyl LP or a cassette tape. In 2017/2018, the original digital master tapes were found and used to create two CD's. Disc one is a digital release of the recording as released on vinyl in 1986. Disc two contains material intended for a second album which never happened until now. Also included are conversations and banter during the session by Hazleton, the recording engineers and a few others present during the session.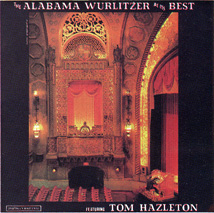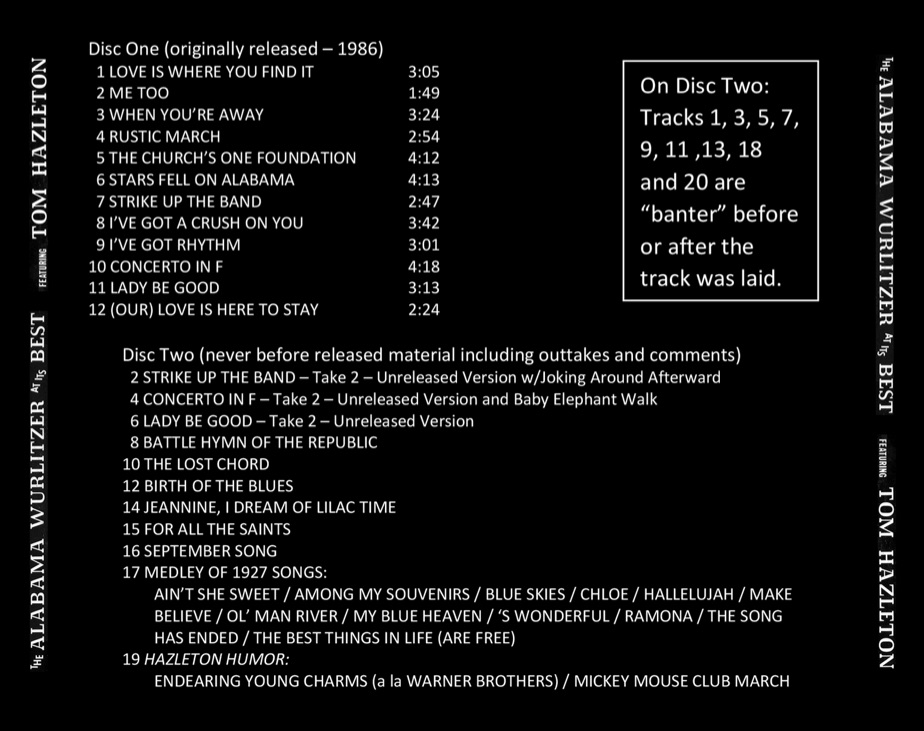 Album Back (HiDef Liner Notes)
.
.
Singin' in the Bathtub, Jim Riggs, released 1989 (CD, $20.00)
The first ever Compact Disc recording of a theatre organ, recorded "in-theatre". Recorded in 1989 and long out of print, this landmark recording has been re-issued and sounds as vibrant and fresh as ever!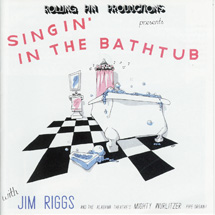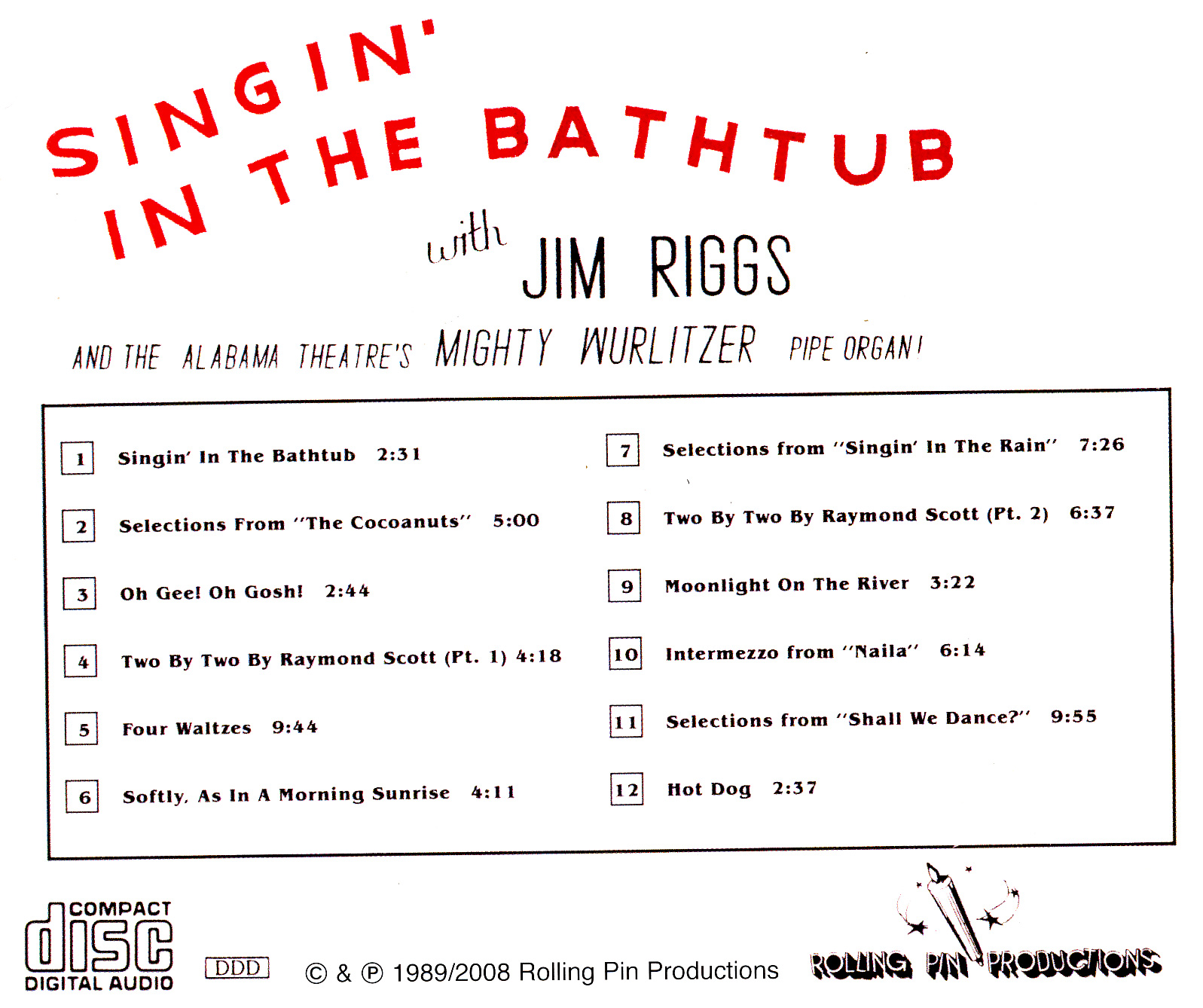 .
.
The Alabama Wurlitzer featuring Tom Hazleton, Tom Hazleton, recorded 2001 (CD, $20.00)
Recorded September 16, 2001 - five days after September 11 - and concluding with a moving patriotic medley, this is one of our favorite recordings of the Alabama Wurlitzer. "A master of the King of Instruments" according to the Los Angeles Times, Hazleton was considered to be one of the few concert organists equally at home at the console of both classical and theatre organs -- and this recording shares fine examples of both registrations and styles.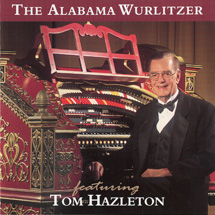 .
.
Stars Fell On Alabama, Jelani Eddington, recorded 2003 (CD, $20.00)
From a live concert by Jelani Eddington on September 28, 2003, featuring fabulous arrangements ranging from Gershwin to Weill to West Side Story.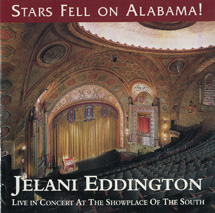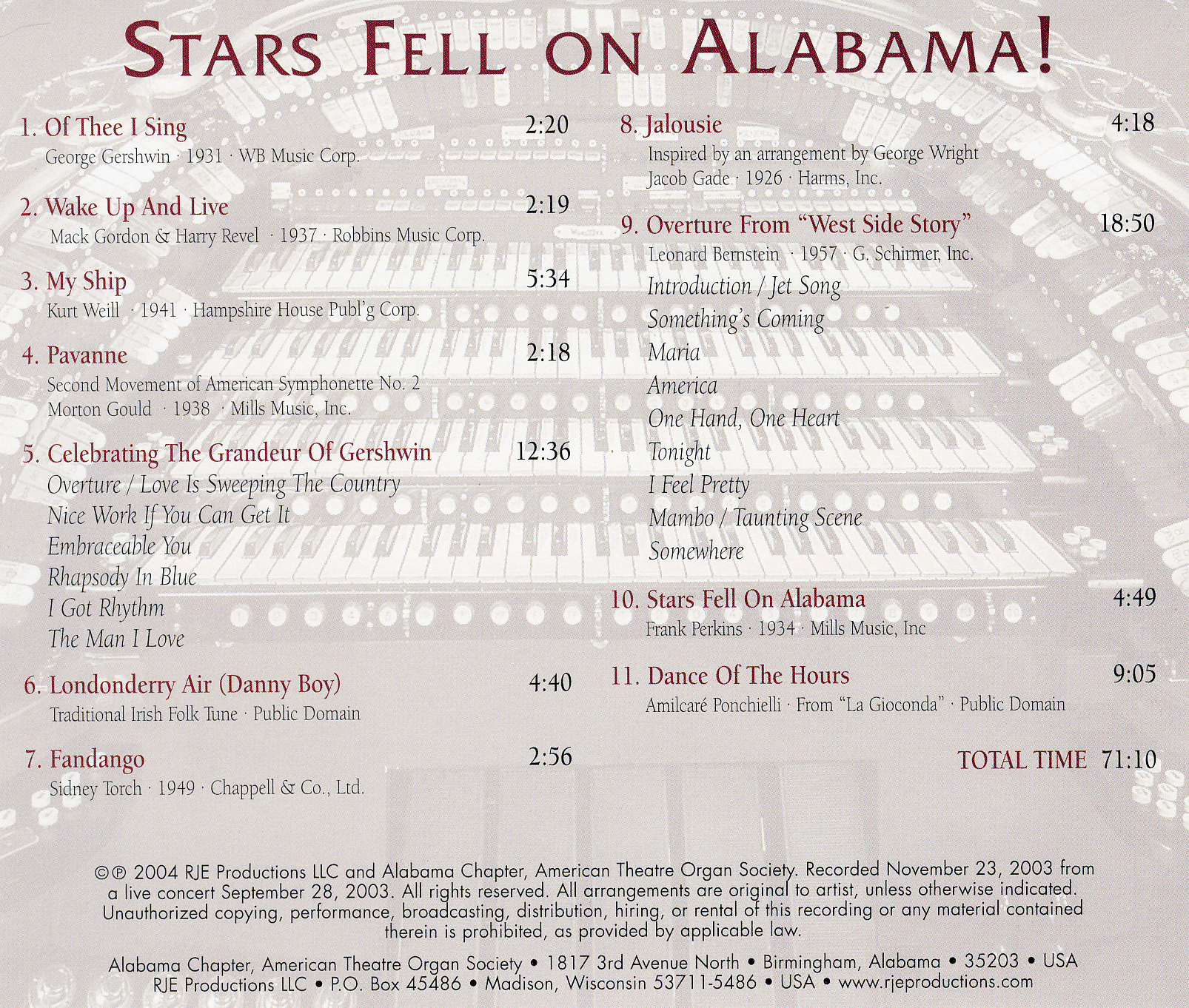 .
.
Alabama Jubilee, 2009 Regional Convention artists, recorded 2009 (2 CDs, $25.00)
Recorded at the ATOS Regional Convention "Alabama Jubilee", November 27-29, 2009, this remarkable two CD set features nearly 160 minutes of "Big Bertha" played by Simon Gledhill, Ken Double, Jim Riggs, Donna Parker, and Mark Herman.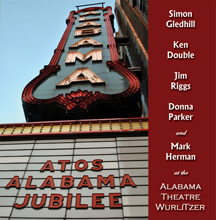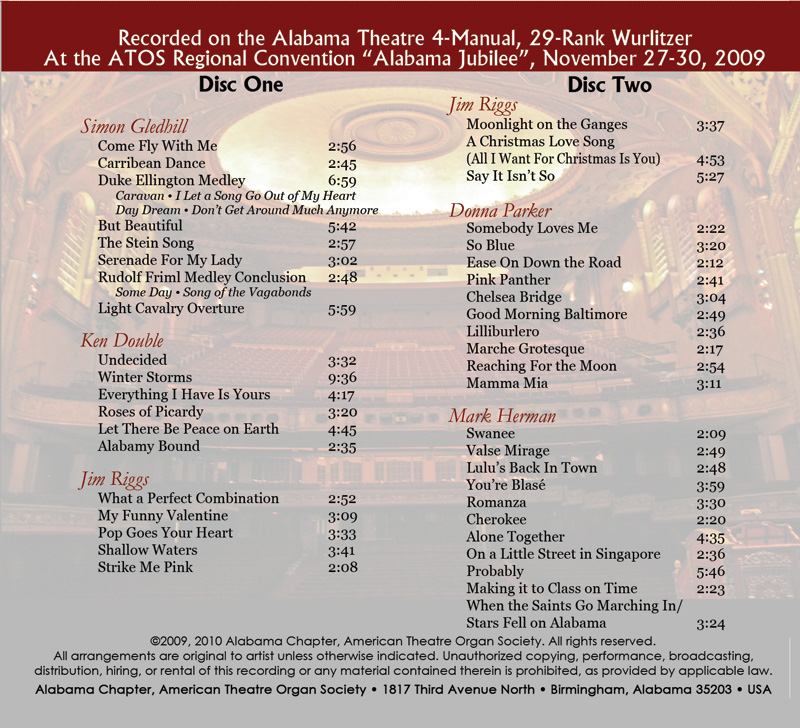 .
.
I Got Rhythm, Don Baker, recorded 1977 (CD, $15.00)
Thirteen tracks from "Big Bertha", the Alabama Theatre Wurlitzer, and twelve from the Senate Theatre Wurlitzer, played by renowned theatre organist Don Baker -- house organist at the famed New York Paramount for an unprecedented 14 years.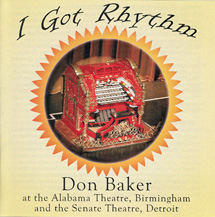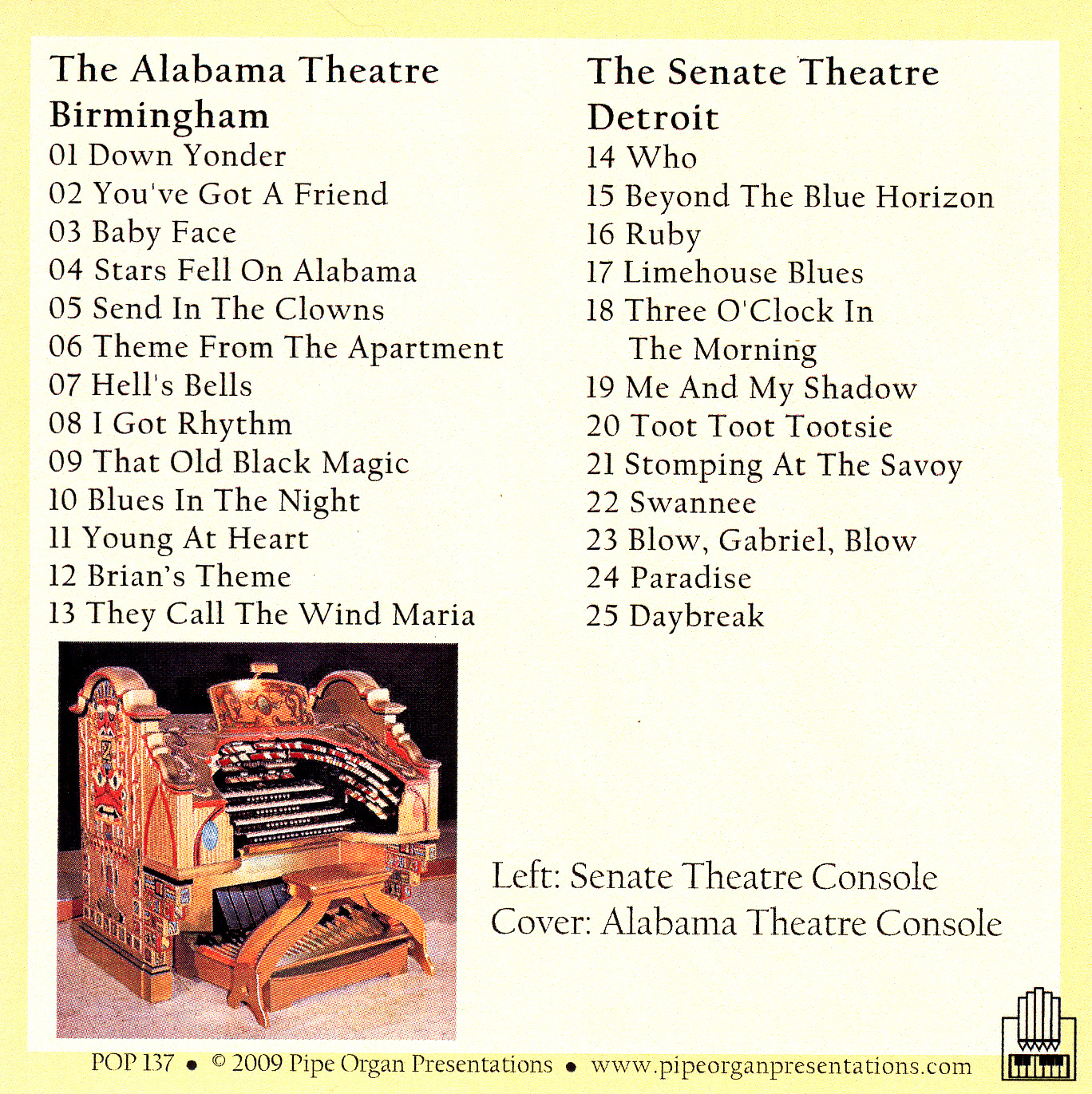 .

.

.

.

<! - - End bodycontent div - ->